CONTACT US
Head office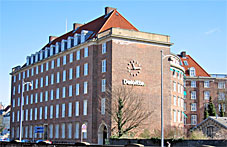 NCB - Nordisk Copyright Bureau
Hammerichsgade 14
1611 Copenhagen V
Denmark
Email: ncb@ncb.dk
- click the following link if you need the email of a particular department

Web: www.ncb.dk
Tel: (+45) 33 36 87 00
Central Business Register number: 22 13 33 14
Office hours
Telephones to our RECORDING LICENCES department are open Monday-Thursday 10:00 hrs. till 13:00 hrs (CET).
In Finland opening hours are Monday-Thursday 12:00 hrs. till 15:00 hrs (Finnish time).
Telephones to all other departments are open Monday-Friday 10:00 hrs. till 14:00 hrs (CET).
You can visit NCB only if you have made a previous appointment. Please call or mail us in advance if you want to make an appointment.
E-mail addresses - various departments
Nordic/Baltic NCB offices